| | | |
| --- | --- | --- |
| Revised Mar 22nd/07 | L G Steamboat Company Review | |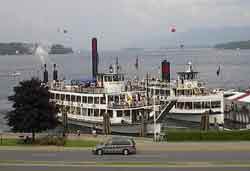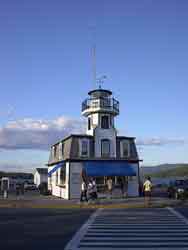 I go on a Lake George Steamboat Company cruise every summer without fail. This is one of those things I just never get tired of. The Steamboat Company has three vessels to choose from. The Mohican, a steel hulled boat built in 1907 to replace the wooden hulled Mohican II (1894 - 1907) sails a fully narrated morning "Discovery Cruise," at 9:00 am every morning. This is the only complete tour of Lake George you can get. The Mohican also offers a very popular afternoon "Narrows" cruise through the Lake George Narrows, and into Paradise Bay. From late June through early September, the Mohican offers a one and a half hour pizza cruise on Thursdays and Fridays at 6:30 pm. Over the years, the Mohican has seen her original steam power replaced by diesel propulsion, and the original wood and canvas superstructure replaced with steel. May 2007 marks the beginning of the Mohicans one-hundreth year of operation on Lake George.
The LAC du SAINT SACREMENT (meaning the lake of the blessed sacrement, a name given to Lake George by the Jesuit priest Isaac Joques in 1646) is the largest vessel on the lake. Construction began on the Saint in 1979, and continued until the boat was Christened on June 15, 1989. The Saint Sacrement was designed after the Hudson River Day Vessel the Peter Stuyvesant, to reflect all the charm and traditions of Eastern Steam boating, while meeting the demands of modern safety regulations. The Saint Sacrement can handle large groups and conventions, provide first class food and service, and offer moonlight sailing with onboard entertainment.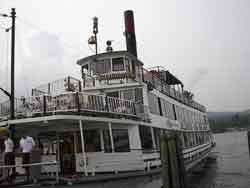 The Minne Ha Ha (a term the Indians used for Lake George, meaning "Laughing Waters") is an authentic steam powered stern wheeled paddle wheel boat. The Minne Ha Ha was built on the lake in 1968, and christened on July 30, 1969. The Minne was designed after the Mississippi River boats. With her steam engine (encased in glass, so passengers can see the engine working) and working steam caliope, the Minne Ha Ha is more than just a cruise boat, it is an attraction all to it's self. The Minne offers a one hour, fully narrated cruise very close to the shoreline that is very popular with families.
In all the years that I've been going to Lake George, and taking Cruises on Lake George Steamboat Company vessels, I've never had a bad experience. The cruises are reasonably priced, and great fun. From the hour long shoreline cruise on the Minne Ha Ha to the Moonlight cruise on the Saint Sacrement, you just can't go wrong. The Steamboat company is located on the Steel Pier on Beach Road in the village of Lake George. Give them a call at (518) 668-5777. Call 1-800-553-BOAT for reservations, email them, or visit their website for more information.