| | | |
| --- | --- | --- |
| Revised Nov 15th/06 | R J Annies Review | |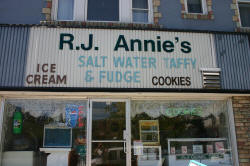 NOTE: I have it on good authority that as of Nov. 12, 2006, R J Annies is closed. Apparently, the owner of the building intends to open a shop of some sort in the location for 2007. As of right now, it is unclear whether R J Annies is going out of buisiness, or will relocate.
The wonderful aroma of R J Annies Caramel Corn wafts out onto Canada Street, drawing customers in to a shop full of hand made sweets and confections. Chocolates made in the traditional Adirondack style, cotton candy, ice cream, frozen bananas, and plenty of other tasty treats to put a smile on your face. I truly can't resist the chocolate and peanut covered frozen bananas, a sweet, cold treat on a summer day. Visit R J Annies at 179 Canada Street, next to Mayard Center in the heart of Lake George Village for a treat that will satisfy any sweet tooth!